Jacob Hallsten
I am a digital art director and designer currently working in Stockholm.
+46 708 700 520
jacobhallsten@gmail.com
Work
2016–present, Nineties Studio
Founder and Art director
2012–2016, Doe Blomberg Gottberg
Art director
Working with Red Bull, Kronfågel, Europcar and Ikano Bank.
2012, Dare London
Art director intern
Worked with BMW, Oxo and Post Office.
2010–2012, Freelance
Web designer and developer
Worked with Fuji Color, APT Studio, Story Hotel, NK Stil and Rose & Born.
Education
2011–2012, Berghs School of Communication
Interactive communication – Digital creative
2011, Berghs School of Communication
Interactive marketing
2010, School of Visual Arts
Graphic design
Digital design
Advertising
2009, Berghs School of Communication
Graphic design intro
2007, Berghs School of Communication
Advertising intro
Cases
Kronfågel - Styckningsschema
Ikano Bank Office Baby
In our latest campaign for Ikano Bank we address businesses that want to grow faster. To illustrate the frustration of being too small, we had a brilliant 12-month-old actress playing the leading role. We built a miniature office from scratch, and every piece of furniture is on a scale of 2:1. The baby is wearing a tailored power suit and its own tiny computer, phone and workspace. The shoot took a whole day, and involved test filming four different babies. In other words, the studio was filled with mums, diapers, milk bottles and of course a makeup-artist with the special skill of making a grey wig look good on a one-year old.
I devloped the online campaign and edited the commercial. It was displayed on the biggest finacial papers in Sweden and on YouTube. Watch it live here.
Winner of Midas Awards 2015.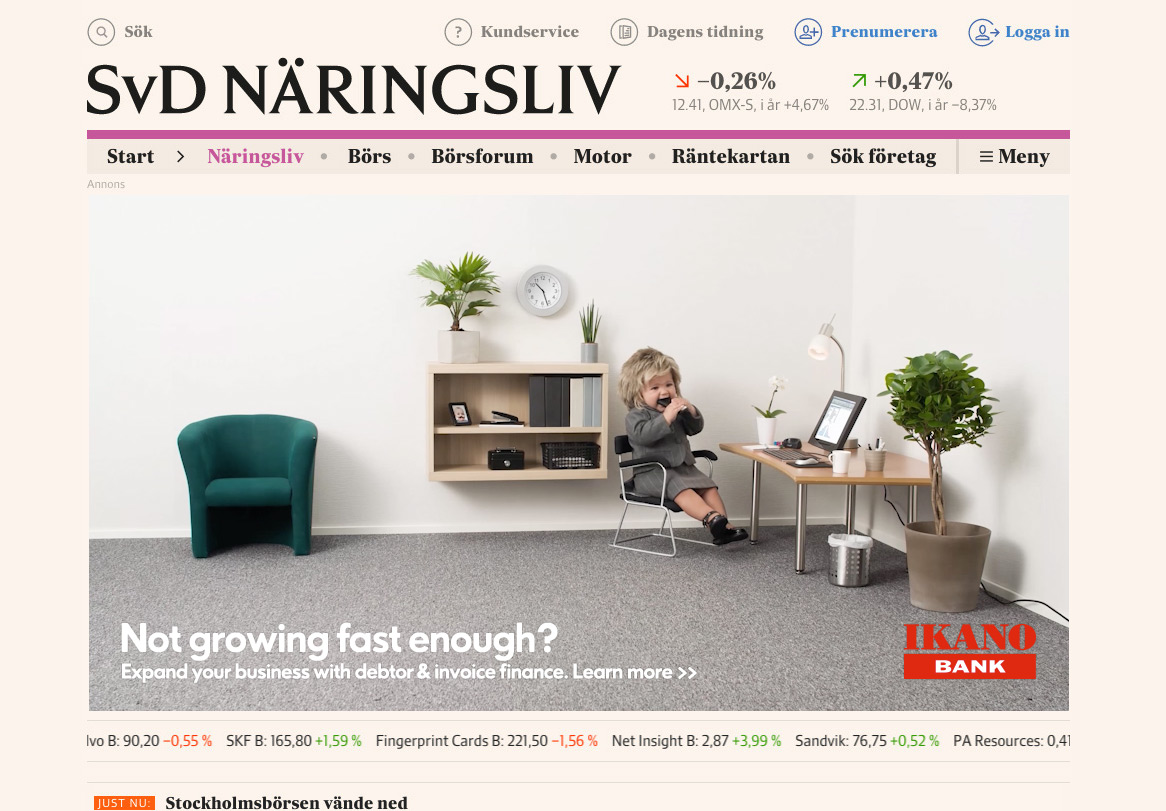 Los Fantasticos Tidsfördrivos
Together with Europcar we launched Los Fantasticos Tidsfördrivos, a music quiz for when you're on your way to the inlaws or when you're driving your new coworker and need an ice breaker. You can connect your smart phone to every rental car from Europcar. By visiting our quiz site your can choose from music a lot of music themes and start competeing
Shortlisted in digital campaign of the month.
Try it on musikquiz.europcar.se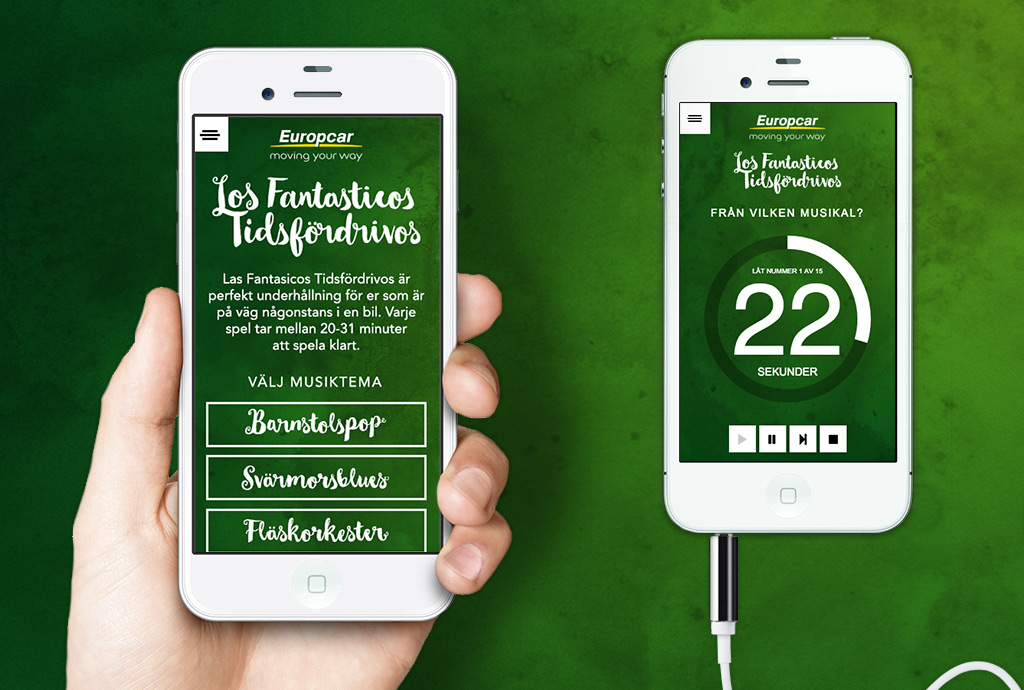 Experiment Alone
With the philosophy "It's more fun together" small gambling company Paf focus on games that require participants to play together. In Experiment Alone we put the philosophy to the test: what would it be like to experience something you normally experience together with friends or family all alone? As the ultimate test we approached one of the world´s greatest artists and one of his biggest fans. A practically unknown company from a tiny island found its way into the world's mass media.
Featured in thousands of tv shows, newspapers and blogs from more than 100 countires, e.g. Rolling Stone Magazine (x2), BBC, The Telegraph, Uncut, Wall Street Journal, Süddeutsche, NME (x2) and The Guardian (x2).
Shortlisted in category Film in Cannes Lion, two nominations in Guldägget, two nominations in Gyllene Hjulet and 2nd in Campaign of the Month.
More night skiing to the people!
Fjällfil (yogurt brand from the Swedish mountains) always tries to give the consumer the full appreciation of their brand heritage. We maximized peoples' time in the slopes and made the most boring part of the ski experience a lot more fun. By placing a target board underneeth a ski lift and let the skiers try to hit it with snowballs we added time to the lift's opening hours.
The campaign came 2nd in Campaign of the Month and featured in GDR Creative Intelligence issue #53, Creativity Online and Ads of the World.
Red Bull Music Academy Weekender Stockholm 2014
For a second year music festival RBMA Weekender visited Stockholm, this year for two days with 58 artists. We created the visual profile and communication for the whole festival. The primary target group is true music nerds (which was reflected in the choice and amount of artists), but this is a pretty small crowd of people (at least in Stockholm). To reach a wider audience, we did a complete take over at one of Stockholm's buissiest metro stations and created banners with an integrated Spotify widget.
The campaign was shortlisted in digital campaign of the month and featured on Creativity Online.
The metro take over was shared on Instagram and other social media thousands of times.
We placed banners on Stockholm's most popular lifestyle magazines and entertainment guides with an integrated Spotify player. With a single click people could listen to all of the artists booked for the festival, without even leaving the page they were on.
Ski Filmmaker
Stöten is a ski resort for the real passionate skiers in Sweden - the ones that like to dream about alps and watch videos of free skiers. We created a tool for Stöten's visitors to document their ski trips with a professional ski film look - this was before Instagram videos. The campaign came 3rd in Campaign of the Month.
No mountains, no sour milk
Fjällfil (yogurt brand from the Swedish mountains) tries to give their consumers the full appreciation of their brand heritage. In these national TV commercials we told the story that Fjällfil's cows constantly needed to look at the mountains that surrounds them to be able to produce milk good enough to produce Fjällfil's yoghurt and to the great length the farmers did to enable this.